A fair-trade concept-store
Les Curieux is a 300m² space dedicated to ethical and environmentally-friendly fashion: clothes for men, women, and children, hair salon, barber's, care, well-being, tea room and café with outdoor seating area, plus DIY creative workshops.
Last updated date : 06/04/2022
Open from Mon. to Sat.: 10 AM-7:30 PM. Open on Sun. in Dec.
Les Curieux 18 rue Palais Grillet - 69002 Lyon 2ème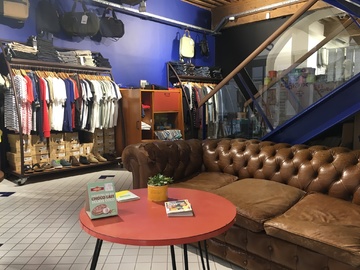 Push open the door of LES CURIEUX and step into a welcoming world where environmentally-friendly values and style meet!

LES CURIEUX is THE place for anyone who loves and wants to know how beautiful things are made: being aware of the ethics behind products, worrying about sustainable production methods, guaranteeing respect for both the environment and people, sharing commitments, and learning to rework and produce on their own.

IN THE BOUTIQUE, LES CURIEUX work in partnership with 90 brands to offer you high-quality, ethical and sustainable items and produce.
They particularly focus on picking creators who share their ethics and fundamental values, respecting people and
the environment: local artisans, made in France, fair trade, integration,
organic or recycled natural raw materials, certification: PETA
VEGAN, BIO, GOTS, ECOCERT, OEKO-TEX, TENCEL(TM), FAIRTRADE,
FEARWEAR ...

IN THE SALON, you can chose from an extensive range of organic, natural, vegan and zero-waste cosmetics, plus make an appointment to enjoy an ultimate relaxing time-out! The hairdresser's, barber's, care and well-being area also uses
100%-natural, petrochemical-free, organically-farmed, vegan products produced as locally as possible.

IN THE WORKSHOP, a range of themes are proposed to learn how to make things on your own and develop your creativity: sewing workshop, embroidery, knitting, zero waste, cosmetics, aromatherapy, basketwork, leather work, floral art, etc.
They work with enthusiasts, artisans and professionals keen to pass on and share their passion.

OUTDOORS, the tea room area is here to make sure you make the most of this quality time with friends or family. It has a fine range of teas, coffees and cold drinks (organic, local, fair trade).
Useful tips
Openings

---
Open from Mon. to Sat.: 10 AM-7:30 PM. Open on Sun. in Dec.
Accessibility

---
Accessible for wheelchairs with assistance
Les Curieux
18 rue Palais Grillet - 69002 Lyon 2ème