In the institute's old laundry room, find out how the vaccine, first discovered in the 17th century by Jenner then developed by Pasteur in the 19th century, was transformed by the Merieux family into a public health tool in the 20th century.
Last updated date : 16/02/2023
Closed temporarily.
Doctor Mérieux's museum of biological sciences 309 avenue Jean Collomb - 69280 Marcy-l'Étoile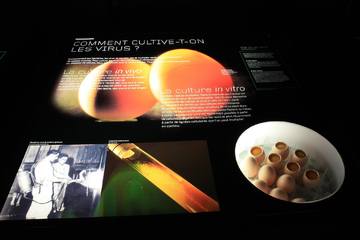 You can visit the museum in two different ways : chronological visit to learn about the Mérieux adventure, the people who have played roles in it, their discoveries and the stages in the development of the various companies ; and thematic visit to explore educational exhibits that explain scientific, medical and technical issues.
Each room is organized around three themes:

Room 1, 1897-1917: Germs at the root of infectious diseases
Room 2, 1917-1937: The first applications in human and veterinary medicine
Room 3, 1937- 1967: From serum to industrial biology
Room 4, 1967-1997: International expansion.

Dedicated to Biology, the Doctor Merieux Museum of Biologic Sciences is here to help you to understand better the infectious diseases, their diagnosis and treatments such as the vaccine discovered in the XVII century by Jenner, developped by Pasteur, till the industrial time of the Merieux family.
Useful tips
Openings

---
Prices

---
Full price: from 5 €
Reduced price: from 3 €.

Free entry for children < 16 years.
Group rate available for > 8 people.

Free for students of Lyon Universities. For groups : € 6/pers. (if booking 2 weeks in advance). Free with Lyon City Card.
Accessibility

---
Accessible for self-propelled wheelchairs
Doctor Mérieux's museum of biological sciences
309 avenue Jean Collomb - 69280 Marcy-l'Étoile