Silk in the heart of Vieux-Lyon
Come and discover the last weaving workshop still in activity in Old Lyon, with the realization of fabrics for fashion designers or the castles furniture and see operate Jacquard looms from the 19th century..
Last updated date : 25/09/2021
Open from Mon. to Sat.: 10 AM-7 PM. Closed on Jan. 1st and Dec. 25th.
Soierie Saint-Georges 11 rue Mourguet - 69005 Lyon 5ème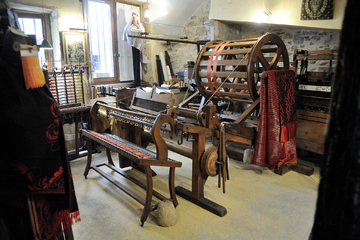 Our workshop-store: an essential visit when discovering Lyon's heritage!

Soierie Saint-Georges is where you can discover and become acquainted with Lyon's silk weaving history. During a guided tour, discover how silk and gold thread is woven on 19th century Jacquard looms. You'll be given a close up view of how fabrics designed for couturiers and château furnishings are made.
You'll be shown all the techniques that have shaped Lyon's history since the 16th century; all the different stages, from design drawings to weaving on traditional looms.

Our store offers the widest range of silks produced in Lyon at attractive prices. You'll be charmed by our ties, headscarves, scarves, stoles, wraps, chiffon and velvet fabrics, and more, all created thanks to traditional know-how.
Useful tips
Openings

---
Open from Mon. to Sat.: 10 AM-7 PM. Closed on Jan. 1st and Dec. 25th.
Prices

---
Accessibility

---
Accessible for wheelchairs with assistance
Soierie Saint-Georges
11 rue Mourguet - 69005 Lyon 5ème